Originally there was no plan to go to Denmark, but since we went to Sylt, the thought to visit Germany's northern neighbor didn't leave Yuily's mind. In retrospect, it was a really nice trip, absolutely worth it. We hitchhiked for the most part, experiencing both: the good and the bad parts about hitchhiking, failing at the bitter end and resorting to pay for public transport to go back to Germany.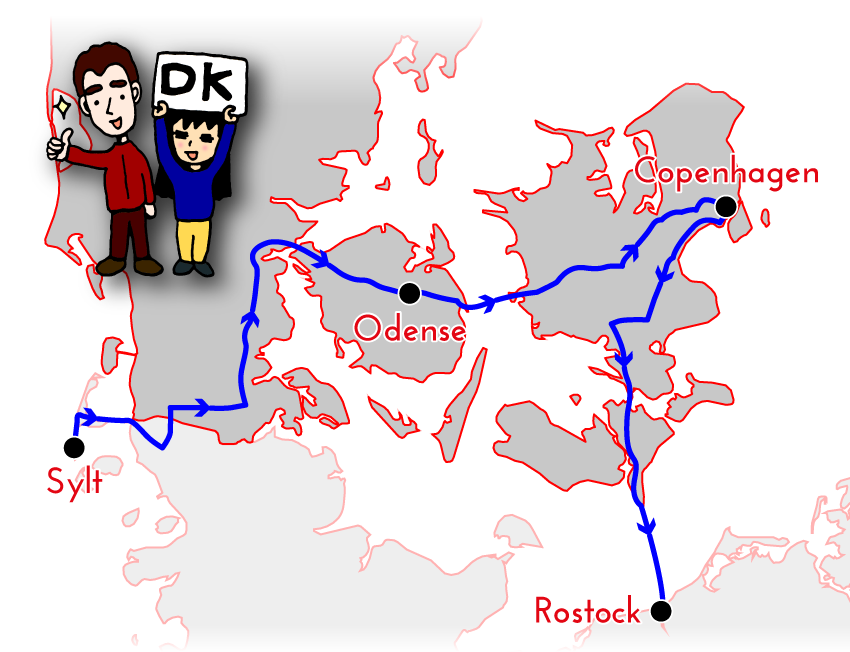 Click on any part of the journey to show the details!

Sylt to Odense
Cost: €10.40 each
Type of Ticket: Bus ticket, State-Ticket (Schleswig-Holstein-Ticket)
Bought at: Bus driver, NOB Ticket machine Westerland Train Station
Time: 2 days
Type of Transport: Local (Bus, NOB) and Hitchhiking
Yuily's strong desire to go to Denmark versus our constant pursuit of budget travel put us into a situation where hitchhiking was the best option for us. I didn't know of any cheap or discount public transport travel in Denmark and the prices that I did find were too expensive for us to afford. Besides, trying to hitchhike here came from other considerations as well: Finally, we were not in a large urban area, we had lots of daytime to cover some distance, and we were in an area that is populated by less conservative individuals. So, we gave it a go.
First, we needed to get off the island. We attempted to walk north until we find a good spot to hitchhike from, which coincidentally ended up being a bus stop. As most cars driving around on Sylt are luxurious ones owned by some millionaires, our chances were fairly low from the beginning already, so we ended up taking the next bus to the central town on Sylt, Westerland, costing us €4.40. There is no road bridge going to the continental land, but a rail causeway. The nearest town on the mainland with a meaningful road connection to Denmark was Niebüll, to which a single train ticket would've cost over €8. As we were considering what to do, a woman asked around loud in the train station "Is somebody going to Hamburg?". She was going to buy a Schleswig-Holstein-Ticket, so I told her about our plans and we offered to contribute €6 each to the ticket. She agreed and we were on our way with the next train.
As we got off in Niebüll, we fed ourselves at the next Supermarket and hiked along the road to find a good hitchhiking spot in the direction of Denmark. Google Maps satellite view worked great for this. The spot I saw on the map ended up being a bus stop. Not the best location, but it got us a ride within 40 minutes from a construction worker on his way home from working on Sylt. He went out of his way for us and took us to Süderlügum, a village close to the Danish border. The town had huge branches of every major chain of German supermarkets as lots of Danes came here to shop groceries for cheaper than in their home country. Easy enough, we positioned ourselves at the exit of two supermarket parking lots and found another ride with a German heading for the Danish town of Tønder.
After crossing the border and thus reaching Denmark, we hitchhiked east with the aim to reach the E45 motorway. A nice Danish lady picked us up, only going as far as Tinglev. As the daylight was fading and we realized that this would be our last ride for the day, she told us of a campsite about 5 km up the road. As we said goodbye and walked in this direction for a bit, she pulled up to us again saying "I just realized, I'm not making you walk there. Come on, I'll give you a lift!". Very nice. The campsite ended up being a huge caravan park, as it's usual in Europe. Reception was closed already, so we just pitched our tent in an empty area. Luckily the service area even had a kitchen we could use!
The next day we packed up and, after walking along a dangerous bit of road, found a good spot to hitch towards the E45 and onwards to Odense. We had good luck this time as we got to Odense by noon in about three rides, one with an elder woman, one by what Yuily said was a really handsome man and the last one by what I said was a really pretty girl. Some of the most unlikely drivers to pick up hitchhikers, "Welcome to Denmark", I guess.
Odense greeted us with perfect weather for a late summer, with plenty of outdoor restaurants in a beautiful old town. While Yuily's senses got all excited to walk around and take pictures, I was increasingly worrying about accommodation as the only hostel was €35 each and there were no campsites close to the city. Eventually we did go to the hostel, Danhostel Odense City, at least we got a private room for the price.
Perhaps one of the most famous Danish persons is Hans Christian Andersen, who was born in Odense and wrote many world-famous children's novels, including The Little Mermaid. Yuily knew much more about him than I did and basically guided me around the city and Andersen's monuments. It was really nice. Back in the hostel, something even nicer happened: Yuily met her old classmate from school! How crazy to meet someone from across the world in a small hostel in Denmark? Small world, small world. That night we also booked a train ticket on ltur.de from Berlin to Munich for 7 days later at €27.
After some more sightseeing the next day, we were ready to hitchhike on to our next destination…

Odense to Copenhagen
Cost: DKK 23 each (about €3)
Type of Ticket: Bus ticket
Bought at: Bus driver
Time: 3 hours
Type of Transport: Bus and Hitchhiking
Looking on the satellite map and hitchwiki.org, I found a good hitchhiking spot on a ramp to the E20 motorway. To get there we needed to take a local bus, which cost us 23 Danish Kroner. We stood on the ramp for a while and soon enough a family van stopped with an incredibly nice man, first apologizing about the mess in his van and cleaning it, then offering us all kinds of useful things like chargers or drinks. He was not going all the way to Copenhagen but to Roskilde, about 30 km short. After dropping us, he was wondering if we had any accommodation in Copenhagen. When we replied that we were just going to find a hostel, he offered to call his friend to ask if we can stay there. Sadly, his friend never answered the phone, and our driver felt somehow sorry that we would have to pay for accommodation in Copenhagen!
We made our way to the next ramp towards Copenhagen and within minutes a young man in a tuned car stopped, taking us all the way there. He was incredibly enthusiastic about foreign cultures and spoke a lot about the positive influence recent immigration had to Copenhagen in recent years. He dropped us close to a hostel I found on the internet, Sleep in Heaven, and so we made it to Denmark's capital. We checked in, this time for a much more economical €19 for a dorm bed. They didn't offer a kitchen, but since we were equipped with a camping stove, this posed no problem for us.
The weather turned much more rainy and cold soon as we started exploring Copenhagen. We didn't manage to see much before it got dark, but it did offer us some pretty sights. What we did find is that Copenhagen is absolutely full of bicycles. All kinds of people use one to commute, from hairdresser to businessman. The city fully supports it, with lots of dedicated lanes, right of way and priority for bicycles. I previously thought the Netherlands were the most famous for their bicycle friendly cities, but Copenhagen beats even them. We found out about a free walking tour at 11 am the next day, which we then decided to take before moving out of the city.
The free tour, which most touristy cities in Europe seem to have nowadays, was led by a enthusiastic Latvian student explaining several things about the city and the country as we moved along. Copenhagen, as a whole, burned down multiple times in its history and only in the last century managed to prosper. Denmark is still a kingdom, but the royals approach a very casual way of life, not being noticed too much. And Danes themselves are statistically the happiest people on Earth, resulting from their high quality of life. We handed our guide a €5 tip, as we were spoiled for choice whether to visit the mermaid statue, or Copenhagen's autonomous hippie community of Christiana. We chose the former as Yuily is a big fan of the story.
The Little Mermaid inspired a sculptor, who has seen the performance on stage about 120 years ago, so much that he made a statue of the mermaid to be put into the waters close to the shore. It's without the fancy fishtail, which was only really associated with mermaids after Disney's terrible butchering of the story in their movie. Naturally a lot of tourists waited their turn to take a picture with it, most of them Asian. We moved out quickly afterwards as we wanted to hitchhike out of the city before dark.

Copenhagen to Rostock
Cost: DKK 246 each (about €33)
Type of Ticket: Copenhagen 4 Zone Ticket, Bus Ticket, Train Ticket, Bus Ticket, Ferry Ticket
Bought at: Bus driver, DSB (Danish railways) ticket machines, Scandilines ticket machine
Time: 26 hours
Type of Transport: Bus, Train, Hitchhiking, Bus, Train, Bus, Ferry
As the darkness was approaching, we were considering to take a night bus from Copenhagen to Berlin for €45. We decided to try hitchhiking instead since it worked so well for us so far, so we made our way out to a good spot using public transport: First a local bus and then a short ride in the excellent S-tog, Copenhagen's version of the German S-Bahn commuter trains, costing us DKK 48 each. A motorway entry there proved to be a good spot and we were on our way soon, taking two rides to get to the town of Køge. Here, we got stuck. Most traffic was going west on the E20, while we tried to go south on the E47 towards the ferry port of Gedser. After 2 hours of waiting it was completely dark and we had to look for a place to spend the night.
It was a very cold night and a nearby gas station looked like a good place to warm up before considering the next steps. As we relaxed there we couldn't bear the thought to go outside and camp in the cold somewhere. Fortunately the gas station had a upstairs coffee area, not frequented at night, and free toilets, so the decision was made to roll out our sleeping bags to sleep right there. Not the most comfortable night, but we've had worse accommodations before that we actually paid for.
The next morning gave us an uplifting experience as someone stopped and took us for a bit in the right direction on the E47. He dropped us at an exit close to a village called Ronnede, going out of his way a little bit for us. But, here our luck ran out once and for all. For the next 4 hours we didn't have any success in getting a lift, only one person who just stopped to tell us to get off the motorway entry. We finally gave up and decided to switch to public transport, even if it's going to cost us a lot. I found out using Google Maps that there is a bus running to the nearest train station at Næstved. Unfortunately we didn't have any Danish Kroner anymore, only Euros, but luckily the bus driver decided to accept a €10 bill, as the fare was DKK74 for both of us, which is exactly the same.
At Næstved, we changed to a train taking us to Nykøbing Falster. We paid the fare, DKK 74 each, by card at a ticket machine. We tried to hitchhike the last stretch from there to Gedser, without luck, so we resorted to take yet another bus for another DKK 38 each. It was about 5 pm as we reached the ferry terminal from where it's possible to go to the German port of Rostock, and onwards to Berlin. The 2 hour ferry ride cost us a reasonable DKK 50 each. On the ferry itself, we would try to get attention with a sign for Berlin and asking people with a Berlin license plate for a lift, without luck. And so, we reached Rostock and crashed the night in the ferry terminal…
Coming soon…
Two of Europe's greatest cities !


Comments