Going for a trip through Europe had a special importance for both of us. Yuily had to prematurely cancel a Europe trip on her own because of family events and Stephan had mostly seen Europe only on trips with his parents. Additionally, I had been abroad for 20 months and there was a growing desire for me to go back, as I realized how little I have seen of my own country and continent. So, we booked our flights and set off for an epic 4 month adventure through the continent and beyond!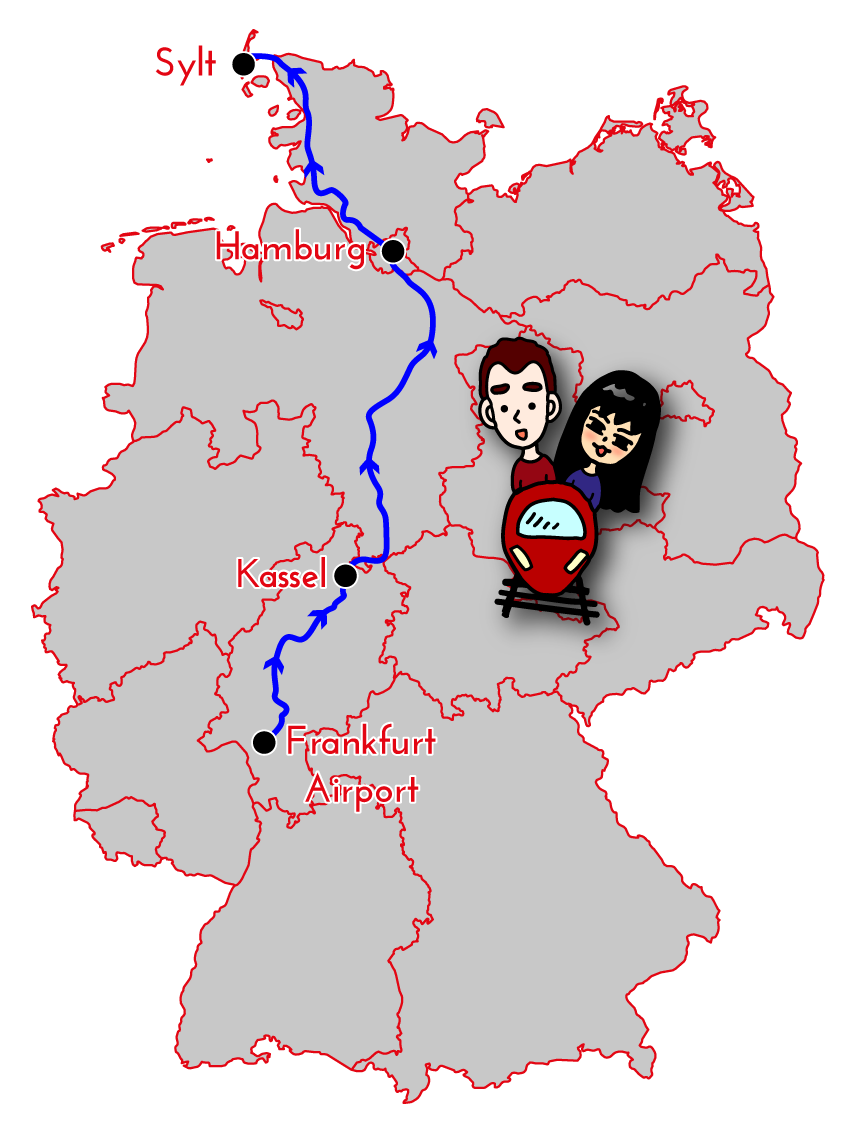 Click on any part of the journey to show the details!

Frankfurt Airport to Kassel
Cost: €8 each
Type of Ticket: State-Ticket (Hessen-Ticket)
Bought at: DB Ticket machine Frankfurt Airport Regional Train Station
Time: 3 hours
Type of Transport: Local (S-Bahn and RE)
Frankfurt Airport, I'm back!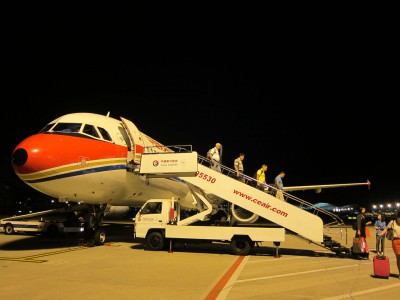 Just about 20 months ago I left this exact place for a trip through South East Asia and a Working Holiday in New Zealand. All the while through these adventures I met many people who have been to Germany and mentioned things like "Oh, I love Berlin! Such a great city!". Well, I actually never visited, I have never seen my own capital. This, along with many other things, made me want to go back sometime. And so, I finally arrived and got incredibly nostalgic as I've seen the airport again that I used to go on many trips before. Yuily had her own rush of nostalgia as well as this is the airport she had to fly back to Taiwan from because of family matters. So, here we were again.
I planned for arriving in time for the Connichi anime convention. Not so much because of the event itself, but mostly because most of my friends were attending it and it was a great opportunity to see them again at once. Of course visiting family is very important after coming home after a long time, but as my mother was on a trip to Portugal for two weeks when we arrived, it made sense for us to trip around Germany for those two weeks until she returned.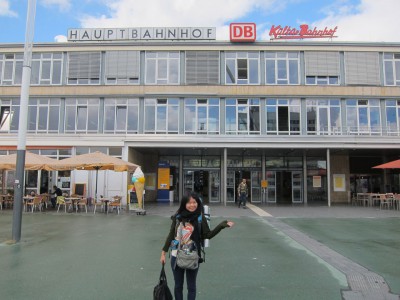 We landed on a nice morning in September 2014. Since Kassel is in the same state as Frankfurt (Hessen), it was possible to use a Hessen-Ticket for this journey. The cost of this ticket was €32 for up to 5 people, which would mean €16 per person if just the two of us travel. Stephan found some long-distance bus tickets online for €13, but these would leave from Frankfurt city – a single ticket from the airport to the city costs €4.50, making the total cost of the journey 17.50, and thus more expensive than the Hessen-Ticket. This is why you should consider all transport! Two more advantages of this ticket were that we could use it in the trams in Kassel and we could invite other people to ride with us and share the cost.
Bearing that in mind, as soon as we bought our ticket we asked other people in the line where they are going and if they would like to share the cost. We found three other Taiwanese travelers who were going to Frankfurt city and asked them to give us €2 each. They agreed and we were on our way in a S-Bahn train to Frankfurt central station. This is where we parted already as we had to sprint to another platform to catch the RE train going to Kassel. We made it in time and enjoyed the next two and a half hours watching some old ladies getting drunk on wine. Welcome back to Germany I guess? As our train approached Kassel central station, a young man asked us if we could sell him our Hessen-Ticket for €10. We agreed and so our cost for the whole journey was down to €8 per person – awesome. We checked in to the only hostel in Kassel, which was preparing for an influx of anime nerds for the upcoming Connichi convention and converted some of their common rooms to dorms. We showered and took a nap to cure our jetlag. Later that evening we went to a restaurant to meet with my friends, I was really happy to see them all again.
The next three days were mostly spent on the convention, attending its programs and events and hanging out with my friends. As with any anime convention, there were lots of people cosplaying around. It was an interesting sight for Yuily as she previously never imagined western people to cosplay. She took along a schoolgirl outfit to try it herself with great results. The evenings were spent college-party style, alcohol fueled in one of my friends hotel rooms or the billiard area of the convention hotel, which was great fun.
Kassel is not on the German backpacker trail at all, but there are many reasons to visit other than conventions. It might be one of the cleanest cities in Germany and has a nice and relaxed but lively downtown. Public transport is convenient and fast and gets you quickly to the outskirts, where you can admire one of Europes largest city parks, Schlosspark Wilhelmshöhe, with a modern castle, numerous trails and a monument on the top called Herkules. Every Sunday from 2 to 4 pm, the water games are held. An artificial spring is opened at the top, with gravity doing the rest, leading the water along some channels, stairs and fountains. It is a fascinating sight.
Later that day, after saying goodbye to my friends, we were bound for Hamburg…

Kassel to Hamburg
Cost: €13 each
Type of Ticket: State-Ticket (Niedersachsen-Ticket)
Bought at: DB Ticket machine Kassel Central Train Station
Time: 5 1/2 hours
Type of Transport: Local (CAN, Me, S-Bahn)
After we said goodbye to our friends, we were on our way to Hamburg. Since Kassel is very close to the state border of Niedersachsen, the Niedersachsen-Ticket made sense. The city of Kassel is not included in the Niedersachsen-Ticket, but luckily we had free transport in Kassel with our convention ticket, enough to take us to the state border. The cost of the Niedersachsen-Ticket was €26 for two persons, and it includes Hamburg. It was quite far to go by local train, so three changes were needed: After going by Cantus (private train) from Kassel to Göttingen, we had to take a Metronom (another private train) to Uelzen, from where we changed to another Metronom bound for Hamburg Central Station. A final change to a S-Bahn got us to where Stephans friend Philipp lives with his girlfriend Karina, who kindly hosted us the next few days.
Philipp and Karina had a day off from work and were kind enough to show us around. Hamburg city offers a group ticket for up to 5 people to use all public transport, including most ferries on the Elbe river, for a day starting after 9 am for €10.80, which made it quite a bargain since there were four of us. Hamburgs weather was awesome on these days and gave us a lot to admire on the usual sightseeing spots: The city hall, Speicherstadt, the harbor and the river Elbe.
Our friends had to work the next day so we went exploring on our own a little more. After checking out more of the harbor district including a tunnel under the river into which cars could only drive by a giant elevator, we went to the scenic suburb of Blankenese. For sure a part of Hamburg where a lot of rich people live. Which there are really a lot of: Hamburg is Germany's wealthiest city!
At night, since Philipp and Karina finished work, we went with them to the infamous red-light district of Hamburg, the Reeperbahn. Littered with strip-clubs, brothels, sex-shops, nightclubs and bars, it is quite a sight, even if you're not interested in these things.
The next morning we were off to one of Germany's most beautiful spots…

Hamburg to Sylt
Cost: €19.40 each
Type of Ticket: State-Ticket (Schleswig-Holstein-Ticket) + Bus ticket (Sylt)
Bought at: DB Ticket machine Hamburg-Langenfelde S-Bahn station, bus driver
Time: 3 1/2 hours
Type of Transport: Local (S-Bahn, NOB, Bus)
Going to Sylt was not originally planned, as Stephan thought of going to Amrum, another island, first. Finding out that the train will go all the way on to the island of Sylt, saving us a ferry fare, made us change plans. After a S-Bahn trip to the station Hamburg Altona, we got on to the private Nord-Ostsee Bahn train taking us to Westerland on Sylt. We used the Schleswig-Holstein-Ticket for two people, setting us back €30. Now, usually these tickets include all kinds of local buses, but not the buses on Sylt, so we had to pay for two single bus tickets from Westerland to the southern village of Hörnum, €4.40 each. As soon as we got to Hörnum we found our campsite.
A walk around for the rest of the day showed us just how beautiful Sylt is. Stephan knew that it is popular with German tourists, but people from abroad like Yuily have never heard about it. If you're not from Europe, you might wonder what's so special about an island in northern Germany: The golden sand, green grass, long beaches with box-chairs on them and houses with roofs made of straw gave us an unforgettable memory.
Only dampening our mood slightly, our campsite unfortunately didn't have any gas available which we needed to cook, so they directed us to a shop in a village further north. We instead decided to ask our camping neighbors, who gladly let us use their ethanol stove along with a friendly conversation.
The next day we rented bicycles to explore more of the island and get the much needed gas, so we rode them north to the village of Rantum along a stunning bicycle track through the dunes. It was fantastic as we stopped multiple times to admire the scenery. Eventually we arrived at a camping accessory store in Rantum where we bought our gas and returned to Hörnum.
We joined a free tour of the Wadden Sea. This is a national park and world heritage site in Germany, a big area between the islands and the continental land where the water regularly draws out almost completely, making it possible to walk along the ocean floor. Stephan knew of this since he was a kid and was really excited to finally experience it himself. The guide explained several things about the tidal flats and the animals that live and depend on them, while guiding us along a safe path. In fact, venturing far out can be dangerous as the tide comes back in. In some places it is possible to hike from island to island, or even from continental land to island!
After exploring a bit more of the Wadden Sea on our own, always keeping a safe distance to the beach, we biked around the southern tip of Sylt and finally back to our campsite to have dinner and sleep as we were bound for Denmark next…
Read next…
Hitchhiking through Denmark and failing miserably in going back to Germany!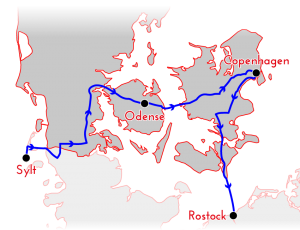 Comments