As my mom was scheduled to return from Portugal, I was finally heading home. After more than 20 months of traveling and living abroad, it does carry quite a few emotions and a lot of happiness. All the while, it lasted only a short time by many standards until we were on the road again.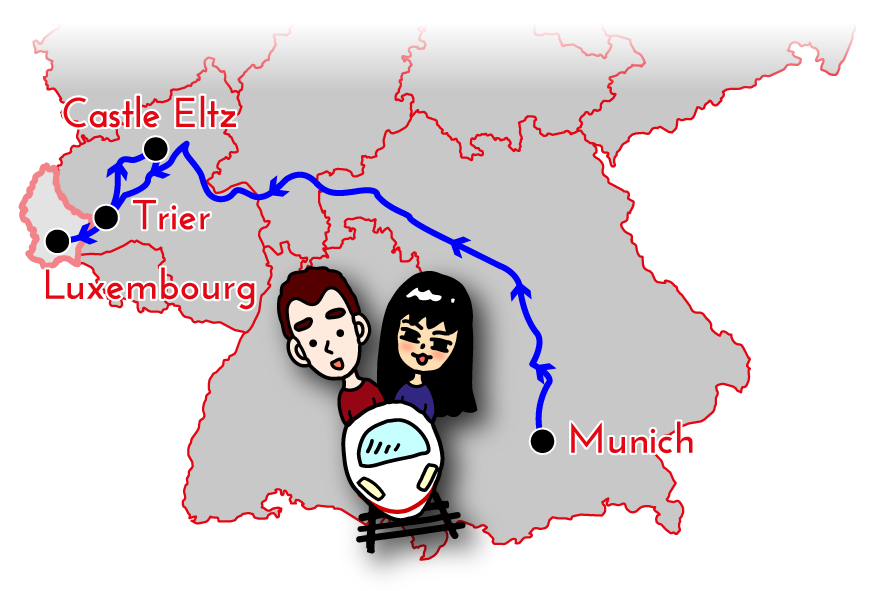 Click on any part of the map to show the details!
Munich to Trier
Cost: €36.80 each
Type of Ticket: Bus ticket, Discount train ticket
Bought at: busliniensuche.de
Time: 8 hours
Type of Transport: RE, ICE, IC, RB
Back when we were in Berlin, I was looking for options to go from Munich to Trier. I knew there was a direct bus for €22, but those cheap fares seemed to be gone by the time I looked. Fortunately, since the journey was less than 7 days ahead, the bus search website also showed last minute train tickets for €29. We bought them, getting us even more pleasure of German ICE trains.
First, we needed to get to Munich central station, so two more single tickets from Freising, a suburb town where our host lived, to there were needed at €7.80. We managed to grab seats at the very front of the train – this was ridiculously awesome as the driver cabin is only separated by a glass wall, so we could watch him work and look out of the front window as the train rockets across the country at 300 km/h!! It felt like the most insane rollercoaster I've ever been on. A smooth one though, as Yuily slept so deep she snored. So, if you are going to take an ICE train in Germany, try to get a seat at the very front. They don't cost anything extra and will give you an experience you'll never forget!
After changing to an IC (InterCity) train in Frankfurt, we were in for even more greatness. Not in terms of speed, but in terms of scenery, as the train winds its way through the valley of the river Rhine, passing by dozens of middle age castles and the world-famous Loreley rock. We changed in Koblenz to a local RB train, taking us towards Trier, where I soon had more joy as I overheard other passengers talking in the Trier accent. I never thought I would be this happy to hear it once! We exited at the suburban station of Schweich and walked to my mothers house from there.
We arrived earlier than she did, so we made ourselves comfortable and had some food before she arrived. A few hours later she arrived and we saw each other for the first time since she visited me in New Zealand, 10 months earlier. I was feeling like I never left soon enough and very much at home. My journey was over.
Of course not. But it did give us several days to relax and take life easy. Over the next few days we were visited by and did visit several friends and relatives, many of which were curious about Yuily, curious about how we met, but not very curious at all about my travels in the last two years. It is a thing that I was prepared for: I met several people who told me about how almost no one back home was genuinely interested in what they experienced during years abroad when they returned home. Most people just wondered about my future and how I finance my trip. I guess long term traveling is still something many people cannot really comprehend.
Trier is worth a visit, not just for its history, but because the banks of the Mosel river house some steep vineyards and beautiful scenery. The Riesling wine that grows on its banks is world-class and quite affordable. When we visited it was late harvest season, meaning we could ride some bicycles through the vineyards and stop to get some grapes whenever we wanted. The weather also liked us as it was really sunny and nice, perfect late summer to sit in a Biergarten and enjoy life.
Since everything around her was still new to Yuily however, I tried the best to show her the beauty of the area that I call home. First off, Trier city. Most people, even other Germans, have never heard of it, yet it does have a lot of sights to offer: It used to be a regional capital of the Roman Empire and was continuously inhabited since over 2000 years, making it Germany's oldest city. Many of the buildings the Romans put in the city are still there and some still serve their original purpose!
There is the monument of the city, the "Porta Nigra", Latin for "Black Gate", the northern city gate that turned black over time as the stone withered, but the huge construction never failed. A bridge, called Römerbrücke, in the river Mosel still uses the same 2000 year old pillars the Romans put there. Mostly in ruins are the "Kaiserthermen", emperor's baths, which were, despite the name, a huge bathing complex open to the public. And, if you visited Rome before and were impressed by the Colosseum, Trier has one, too! It's not as impressive as most of the stone was removed during the middle ages, but it still functions and gets used with it's original purpose: Gladiator fights Stage performances and concerts! More recent history also makes Trier known as the birthplace of Karl Marx, the founder of communism. Owing to this, Chinese tourists sometimes find their way to Trier and visit the house he was born in, which is now a museum.
Because of the close proximity to Luxembourg, we had a day trip planned there.

Trier to Luxembourg (and back)
Cost: €17.80 each
Type of Ticket: DB-CFL Luxemburg Spezial
Bought at: DB Ticket Machine
Time: 1 hour (one way)
Type of Transport: RB, RE
To put it bluntly, there is not much reason to visit Luxembourg. It's a tiny country that is the richest in the world if measured by capita, resulting from it being a major base of international banking. The reason it's still a independent country comes from it never being formally annexed by one of its neighbors, similar to other European micro states like Andorra, Liechtenstein and San Marino. So why go? It's another country on the list, of course!
We decided to take the train and purchased a "Luxemburg Spezial" ticket for €35.60 combined, enabling us to take any train to, from and within Luxembourg for the day. At the time, this was the cheapest option for two people, but, as of 2015, the new "Rheinland-Pfalz plus Luxemburg" ticket seems to be cheaper and better. A 1 hour RE (Regional-Express) train later saw us in the capital of the country with the same name.
Luxembourg City, just as other European micro states, sits in a position that was perfect for defense in the middle age, which is the major reason why it's still an independent country today. For the clueless traveler, it gives the old town very nice surroundings, with a deep canyon carving around most of it, forming a natural moat. Inside the old town we found the usual market square, city hall and cathedral – nothing spectacular at all compared with average German towns.
But combined with the unique natural settings, exploring the old towns outer edges was fun and gave us great views. Combined with these, one sightseeing spot worth noting were the catacombs, officially named in French "Casemates du Bock". These are several floors of underground passageways built below the original fort that stood on a protruding ledge of the plateau the old town was on. Most of the original fort is gone, but the catacombs still exist in their original middle-age glory, being an interesting maze to walk through and getting lost in. Also, especially considering that this is the richest country in the world, the entrance fee was a completely reasonable, backpacker-friendly €3!
After a hike back to the main station, we took a train back home.

Trier to Castle Eltz (and back)
Cost: €5 each
Type of Ticket: –
Bought at: –
Time: 1 hour (one way)
Type of Transport: Car
Germany has literally thousands of castles, each of them with a unique history. Many of them, although described as castles in English, are actually just called fortresses in German – historically just built for defense and possibly upgraded and inhabited by lesser royals later in their time, like counts or dukes. Such as the case with "Burg Eltz" – "Burg" is actually the German word for fortress. It is an utterly majestic building, easily competing in its appearance with castle Neuschwanstein, but not worthy of the title "Schloss" (Geman for castle) because no king ever resided there.
Having seen it on a postcard in Trier and my mother suggesting us to make a day trip there, we were keen on the idea, so on the last full day we had in Trier, the three of us went there by car, in a little under one hour. If you're curious, a train and bus combination would've also been possible and taken us about the same time, costing €10.33 with a Rheinland-Pfalz-Ticket. We parked the car at an abandoned restaurant, intending to hike the last few kilometers to the actual castle.
We finished the hike pretty quickly, only to be completely absorbed by the majestic castle that appeared in front of us, slowly trotting the last steps towards it taking many many pictures. The natural surroundings were quite beautiful, too, as the castle stands in the middle of a forest surrounded by rivers and hills. Along us were several other tourists, but also hikers, as the castle is at an intersection of three hiking trails through the local mountains.
Of course this castle is by far not as touristy as Neuschwanstein, but fortunately for Yuily, touristy enough to have guided tours in English, costing us €9 each. We signed up for one, and this was a good idea in general as the tours in German were very crowded, while the English one was just 9 people including us. We were guided by an enthusiastic student through several impressive rooms, feeling like being transported right back in time. The whole castle is still in family ownership, and while the rooms we were guided through only serve touristic purposes, they were beautifully maintained and restored to their appearance as it was in the middle age, renaissance or early industrial age.
Again, in constrast to Neuschwanstein, we had plenty of time to admire each room and our guide took his time to answer each of our questions in detail. After the tour, we went to see the treasure room, full of historical artifacts and valuables owned by the Eltz dynasty, most of them acquired by trade, but also by conquest. It was an overall fantastic experience as it was visible everywhere that this is a real castle, almost a thousand years old, inhabited by real royals, with each and every section of it serving a real purpose. So, if you plan a trip to Germany, I would wholeheartedly recommend this castle over Neuschwanstein, unless you're specifically looking for a Wonderland-Fairytale castle that never served any purpose other than a megalomaniac fulfilling his vision.
After hiking back to our car, we stopped by at the nearby town of Cochem. A very nice, sleepy town on the Mosel river with a long history. Enjoyable as well was the local flea market that made Yuily excited, as she found several bargains. It started raining soon, when we decided to go back to Trier.
A few days before we booked a flight from Istanbul back to Frankfurt at €44, departing over 3 months in the future. We would embark the next day on an epic overland journey through Europe!
Read next
Surfing along Germany's border, visiting the beautiful and famous Heidelberg, the Black Forest and more!
Comments