It was early October. We knew we would have some time to journey through Europe, but this continent with its vast amount of cultures and sights is almost impossible to completely explore – even if you have time for a few years. So we would have to set ourselves a target and a direction. This was going to be east for three reasons:
Eastern Europe is cheaper. If you heard about expensive rail passes, 30€ per night hostels and unaffordable restaurants before in relation to traveling to Europe, usually this means Western Europe: France, Germany, Italy etc. Countries like Poland, Slovakia and Hungary are several magnitudes cheaper to travel while being home to equally impressive sights and cities. You think it's not as safe? Barcelona and Rome are the pickpocketing capitals of the world. Think again.
Yuily is limited to 90 days in the Schengen Zone. The Schengen Zone is a free travel area encompassing most of Europe. You can travel from Portugal to Estonia without having your passport checked. Since our total stay in Europe was almost 4 months, we would have to travel to countries that don't belong to this Zone, most of which lay in South-Eastern Europe.
A meeting with a friend in Warsaw. Yuily got invited by her friend Gosia to the Polish capital on November 1. This marked the only intermediate step we had definitely planned so far.
And thus we were looking for a flight that takes us back to my home just before Christmas. Since most non-Schengen countries are in the Balkan peninsula, we looked for outgoing flights from there. Plovdiv, Bulgaria and Thessaloniki, Greece, seemed like good options, but Istanbul also caught my eye. The flight price didn't differ much from those three airports, around €45 each, but we chose Istanbul for a number of reasons: It was possible to get a cheap flight very close to Christmas, it was Turkish Airlines, a proper airline, no low-cost carrier, it's officially the end of the European continent, and, of course, Istanbul is a fantastic city worth to see.
This, however, meant that Yuily had to purchase a visa for Turkey. In a string of luck, the Turkish government enabled Taiwanese citizens to get an electronic visa, valid even for land border crossings, just one month before. Registering on a website and paying €18 with a credit card was all she needed to do.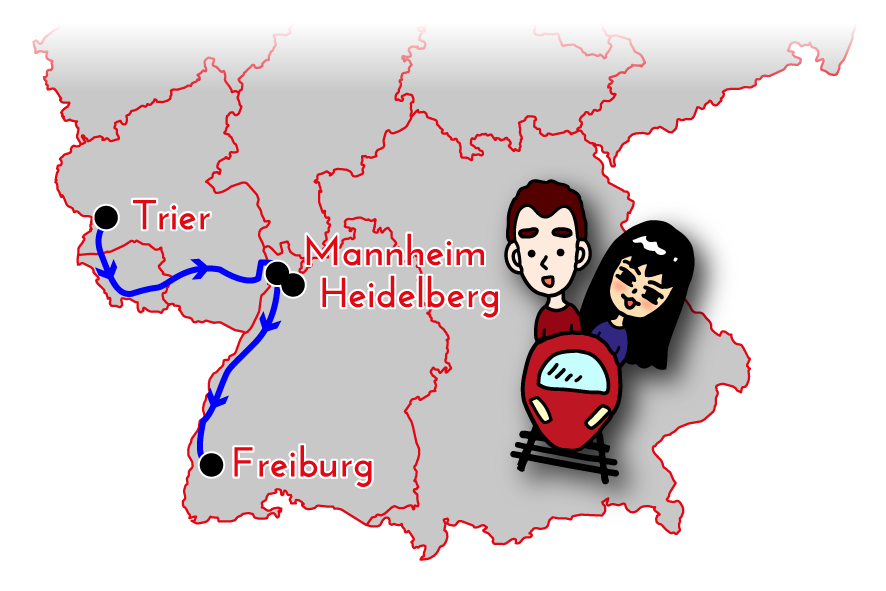 Click on any part of the map to show the details!

Trier to Mannheim
Cost: €13.50 each
Type of Ticket: Rheinland-Pfalz-Ticket
Bought at: DB ticket machine
Time: 4 hours
Type of Transport: RB, RE, S-Bahn
With a rough target in sight, heading east was the plan. We saw that the city of Heidelberg, which we both heard is worth seeing, lies in that direction, as well as the slightly larger city of Mannheim. I remembered that my friend Ingo, who we also met in Kassel, studies in Mannheim, so I wrote him a message to ask if we could stay. Even though he was recovering from a leg operation and has a very small student apartment, he offered us his spacious fold-out couch. Very nice hospitality.
Getting there was a rather easy affair. The Rheinland-Pfalz-Ticket is valid all the way till Mannheim, even though that city is in the neighboring state of Baden-Wüttemberg. After about 3.5 hours in local trains, changing twice, we arrived. Although the ticket is valid until Mannheim station, it is not valid on the trams, so we opted to walk to Ingos apartment. Not bad, since the route took us right through the city center. The evening was spent exploring the little things Mannheim has to see, which nice, but can all be done in less than two hours.
The next day we set off to Heidelberg. A day ticket for both of us covering all transport between the two cities was €14.80 for both of us, a good deal. Heidelberg has grown into the urban area of Mannheim, so there were not just a number of commuter trains, but also trams running all the way between the city centers. We opted for the tram, although three times slower, it would take us through the streets to get good views. We also were able to exit right at the old town streets, saving us a walk from Heidelberg's main station.
Ingo recommended a candy store to us, where we went and discovered a ridiculous amount of sweets. Since we are budget travelers, we opted for small bags of a few cents only. Sprawling all over Heidelberg's old town are facilities of its world famous university, which by itself, is at over 600 years also one of the oldest in the world and produced over 50 Nobel prize winners. Like in most German universities, studying here is, apart from a few fees and taxes, free. By being so famous and free, the entrance requirements are obviously very high. What it also meant is that the streets of the old town were absolutely full of young students.
We spent some time just walking around and admiring the buildings. We went to a chocolate shop, called "Heidelberger Studentenkuss", which Yuily saw recommended in guidebooks. Predictably, the shop was almost exclusively visited by tourists. Since it was an incredibly nice day, every cafe with an outside seating area was packed. We, too, seized the opportunity and went to the other side of the river Neckar to relax on the grass with the panorama of the old town and castle.
Which is where we went next. A ticket to go inside would've cost €8, including a cable car to the top, but we skipped it since the castle gardens were free to visit. A steep path led up to them. We could essentially walk around most of the castle without a ticket and admire the view. Parts of the castle were ruined from historical conflict and slowly reconstructed. From the castle gardens also started a series of hiking trails into the nearby forest, which was actually the beginning of the Black Forest. We didn't have any time to hike them though.
What I couldn't resist was to have a beer at one of the brewpubs in town, so we went to the main square for me to splurge on one. We passed away the time until sunset at a nice outside seating area, Yuily having a coffee.
We went towards the nearest train station, when we were captivated by an absolutely stunning sunset on the riverside. You would think this should all be normal to me, having lived in Germany, but the view was just very very romantic. Heidelberg has a huge charm, and it attracts lots and lots of tourists, but it's for a very good reason and it completely deserves all the praise. Make sure to visit when you go to Germany!
A quick 15 minute train ride took us back to Mannheim to crash at Ingos place.

Mannheim to Freiburg
Cost: €12.20 each
Type of Ticket: VRN-Ticket (Mannheim), Discount Bus Ticket
Bought at: VRN Ticket Machine, meinfernbus.de
Time: 3 hours
Type of Transport: Tram, Bus
Our next destination was Freiburg, as a base for the Black Forest. The evening before we left I was checking transport prices and ultimately chose to book a bus ticket with the company "Mein Fernbus" for €11 each. The journey would've been possible with a State-Ticket as well, making it €13.50 each, but including local transport on both ends. But the slowness of the local trains and several changes involved made us choose the direct and convenient bus.
To get to the bus station we used the tram once more, and a very affordable single ticket for €1.20 probably goes down in history as the cheapest single ticket currently in Germany. We rushed to the bus station, only to wait around for our bus as it was 40 minutes late. Trains in Germany definitely still have the edge in punctuality, and always will have, as buses lose time in traffic jams. After it arrived and the driver rushed us aboard, he made up decent time and actually arrived in Freiburg on time.
We walked to our hostel, which was right across the old town from the bus and train station. Not that we had many options anyway, as the tram was out of service with the lines being reconstructed. The "Black Forest Hostel" was another reminder of the poor state of hostels in Germany: €17 for a bed in a 26 bed dorm (yes, 26 beds), no WiFi, extra charge for bedsheets (we used our sleeping bags), and a floor squeaking so loud it woke me up every time someone walked past my bed. At least it had a kitchen. It's just sad how much worse hostels are in Germany compared to some much poorer countries I traveled to. We only stayed one night.
The rest of the day we spent looking around Freiburg, which is yet another student town with a really nice old town to get lost in. It's a matter of opinion of course, and while Freiburg is beautiful, I liked Heidelberg more. We did go to see the cathedral, the university and the city hall. We saw all there is to see in a matter of two hours.
After dinner we had to come up with a plan for the next day. Yuily had heard of the town of Colmar, a few dozen km to the west across the river Rhine in France, and we wanted to go there. I however did not see any cheap transport options, and a search for hostels in Colmar didn't come up with anything. Also, we would leave the Black Forest area without having seen any forest…
I hatched a different plan: We would fully utilize a state-ticket and use it to take a train into the Black Forest, do some hiking, then in the evening take a train to the Swiss city of Basel, where we could possibly stay at my friend Oliver's place. From Basel I knew that cheap round-trip tickets to Colmar existed. Yuily agreed and I messaged Oliver, who was excited to host us and accepted my request within seconds. We had a plan.
Coming soon…
The very amazing "Venice of France" and misery striking along the German border.
Comments