After our quick trip through Denmark, we were back in Germany, ready to go to two of it's greatest cities and me anticipating to go home for the first time in 20 months, ready to meet my mother as she got back from a trip to Portugal herself.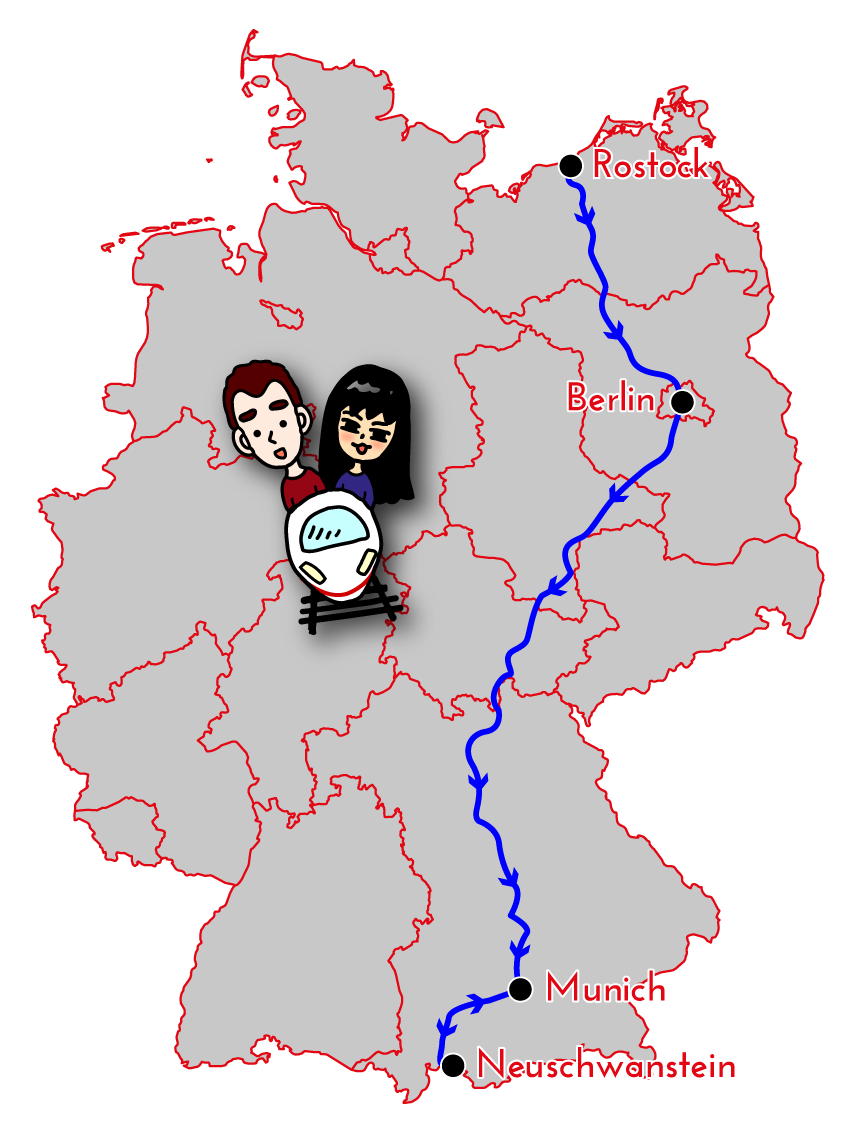 Click on any part of the map to show the details!

Rostock to Berlin
Cost: €14.60 each
Type of Ticket: Discount bus ticket, Berlin Day Ticket
Bought at: Flixbus.de, DB ticket machine
Time: 3.5 hours
Type of Transport: Long-distance bus (Flixbus), S-Bahn, U-Bahn
Before we went to sleep in the ferry terminal in Rostock, I was figuring out the cheapest way to Berlin. I found on busliniensuche.de that the company FlixBus offered a bus directly from the ferry terminal to Berlin for €9. Cheap enough, I instantly bought the tickets online at this discounted price. Bought from the driver, the ticket would've cost €27! So, dear readers, when in Germany, always buy long distance transport online!
After a night of more or less sleep on the ferry terminal benches, and a reasonably priced breakfast in their bistro, we got on our bus. It was actually my first time riding a long distance bus in Germany, as the market was only liberalized in 2013 – before that, expensive DB train tickets were your only choice! Now, fierce competition between bus companies has made the prices pretty cheap and life for backpackers in Germany a lot better!
The bus driver was a very nice person ensuring our comfort, and the ride to Berlin took us just about three hours. In Berlin we were going to meet our host Sven, who invited us from couchsurfing.org. His invite saved us a lot of hassle as no hostel in Berlin had continuous vacancy and none of my friends had any space for us.
Berlins bus terminal (ZOB) is close to a S-Bahn station. To meet Sven, we first purchased day tickets for Berlin at €5.60, took a S-Bahn (commuter train) to Hermannstraße station and a U-Bahn (subway) to his place. Sven was a fantastic Berliner to host us and with his interest for Asian culture and Taiwan we had lots of stuff to talk about. Also quite entertaining was his crazy cat, which unlike most cats, did not like to be petted, but wasn't overly shy either.
As we lost more than one day to hitchhiking and having already booked onward transport to Munich, our time in Berlin was limited to three days. In order to make the most of it, we headed into the city again to see no less than the infamous Berlin Wall, or what remains of it at the East Side Gallery. To me this was incredibly exciting, as I witnessed this part of history but was still a little kid back then. Seeing and touching the wall myself was very monumental – it separated not just East and West Berlin, but the world: Into Western and Eastern World, into First and Second World, Capitalist and Communist World. If you're reading this and have no idea what I'm writing about, read about it. The Berlin Wall was literally the front line of the Cold War.
The next day we criss-crossed around the city taking in the must-see sights. After exiting Alexanderplatz station and seeing the TV Tower, a symbol of strength once built by the communist East Germany, we strolled past the Red City Hall and towards museum island. On this island in the river Spree, several big art and artifact museums attract visitors, the biggest of them being the world-famous Pergamon Museum. It was actually just a few days before being closed for five years in order to be renovated, so we were heavily considering to go in, but a slow moving long line made us reconsider. Until five years later, I guess.
Obviously we made the move towards Unter den Linden, using a sweet double decker bus to get there. A nice tip if you plan to visit Berlin and don't like walking too much: The public buses 100 and 200 are double deckers that you can take with any valid Berlin (BVG) transport ticket, but they drive on the same routes as all the "City Sightseeing" tourist buses – so there is no reason to pay for those. We strolled along the alley towards a monument that many people have first in mind when they think about Germany: The Brandenburg Gate. The weather was being not too nice to us, drizzling slightly, but it did not take away our excitement. What seems to be quite normal to Berliners, there is always some kind of political demonstration in front of it. This time, a few Kurdish people demonstrating against the German government for their passiveness in combating ISIS.
Speaking of which, we then went to see the Reichstag, Germany's parliament, a short walk from the Brandenburg Gate. It is an impressive building that seems much larger than I imagined it. While it is free to go inside and up the glass dome, only a limited number of people can do so, with spots filling up in advance. I didn't register in time, sadly, but if you are reading this and want to do it, you can register online at this website, it's free!
As the drizzle developed into a rain, we went into the nearby Holocaust Memorial, housing a free museum, similar to the Topography of Terror, which we went to see next. These museums really dive into the dark part of German history during World War 2 and the Nazi dictatorship. While they are very intriguing and shocking, I as a German have been confronted with this part of our history very often from school on, so it's not like I can't tolerate it. Still, these museums were not just put into an empty space, the sites they occupy were actually historical sites where some of the worst crimes against humanity have been drafted. Finished with our day, we headed back to our hosts place.
After dinner it was time to sample some of Berlins infamous nightlife. We went to numerous bars in Kreuzberg, an area of Berlin that changed completely through gentrification multiple times. It used to be almost everything in its history, from workers social housing, to immigrant slum, to hipster district, to student housing. Bars around Kreuzberg are quite unique consequentially, some are decorated like a jungle, others resemble a garage, and another one a dormitory. But what each of them has is a comfortable living room atmosphere in a small space to sip a beer and talk to friends. Same as with the variety of decorations, it's possible to find a bar or club for every niche musical genre you can imagine in Berlin. You only like 70's punk music? No problem, there is a bar dedicated to it.
We really only got a mere taste of Berlin in these three days and it's a shame we couldn't stay longer. While in other cities one day was usually enough to explore most of the sights, in Berlin three days is just scratching on the surface. If you plan a trip to Berlin, give yourself at least a week, there is really so much to see and do! With that in mind, we headed to the main station to catch our pre-booked ICE train to Munich to meet Yuily's friend …

Berlin to Munich
Cost: €37.40 each
Type of Ticket: Berlin single ticket, discount long distance train ticket, Munich single ticket
Bought at: Berlin VBB ticket machine, ltur.de, DB ticket machine
Time: 7 hours
Type of Transport: U-Bahn, S-Bahn, ICE, RE
This journey could've been done a little bit cheaper, but we chose comfort: There would've been a bus ticket for €21, with local transport on both ends to and from the bus station €32.40 each, but a 9 hour bus ride didn't seem fun. Since it was a weekend, a Schönes-Wochenende-Ticket for €22 each including all local transport in Germany was an option, too, but limiting ourselves to local trains from Berlin to Munich, requiring up to 10 changes. But for a few euros more, I found a direct ICE train for €27 at ltur.de seven days back when we were still in Odense, almost 3 hours faster than the bus and a whole lot more comfortable. Besides, it gave Yuily an option to experience the excellence of German high-speed trains.
It was a pleasant ride, with lots of time to rest, read, draw and enjoy the scenery passing by at up to 300 km/h. It got us there just in time, which was at about 11 pm, a time when hordes up on hordes of tipsy people stumbled around the train station, as the nearby Oktoberfest beer festival just closed for the day. We ourselves had to get to the outer suburbs of Munich, to a town called Freising, to meet Michaela, Yuily's friend, who would host us for a few days. While the Munich S-Bahn does go there, RE (Regional-Express) trains heading to northern Bavaria also do and are twice as fast. And since local tickets in Germany are always valid on any local transport, a Munich city ticket was also valid on the RE. It took us to Freising in just 20 minutes.
Michaela picked us up from the station and we walked to her flat where we would stay for the next four nights. Michaela and Yuily had met and became freinds in New Zealand, about one month before I met Yuily myself. It was incredibly nice from her to invite us, since the time around Oktoberfest is always incredibly busy in Munich and accommodation is hard and expensive to come by. Michaela was a very organized German about our visit, having already planned out as to how and where we would spend each day and what we would eat.
With that in mind, the next two days were spent exploring different parts of Munich. We went through a part of the English Garden, a gigantic park close to the center of Munich, and the Eisbach, which is a small river on the edge of the park. Unique about the river, there is an artificially created rapid in it which creates a constant wave. Surfers discovered this as a paradise for unlimited surfing. We watched them for a good amount of time, pulling all kinds of stunts on the small river. Onwards, we went to see the city hall and watched the chimes before moving on to climb up St. Peter's church, significantly cheaper than the cathedral with just as good views.
Of course going to Oktoberfest was a must. It was no coincidence that we were in Munich around the same time as the giant beer festival was held, it was one of the reasons for us to go. I've already been in 2007 and 2008 so it was nothing new to me, but it was still fantastic to see all the sausage vendors, fun rides, beer tents and the literally millions of drunk people again. While I was itching to have a beer, I knew it was Sunday, and on a weekend the beer tents are way too busy and actually don't let any more visitors in because of safety reasons. So I patiently waited until Monday, while we instead got some snacks and a Dampfnudel, a traditional Bavarian dessert which is a very soft loaf of bread soaked with a thick, sweet vanilla sauce. Later on, we even witnessed a proposal by a very drunk man to his girlfriend. Not the most romantic situation, but she accepted as he struggled to stand up again.
Michaela had to work on the next day so we were off to explore more of Munich on our own. We decided to go to Deutsches Museum. By its name me and mostly everyone would guess that it's a museum about German history, which it is not. Instead, it's about science and technology, and a lot of it. Very, very impressive, filled with all kinds of interesting exhibitions, examples and experiments of not just German, but worldwide technology, highly recommended. We only managed to see about half of it before it closed, after which we went to the Oktoberfest so I could get my beer!
We arrived at the festival grounds at the same time as many locals who just finished work, so it seemed very busy as usual. But the numbers were actually less, as we have been able to get into some beer tents and witness the atmosphere of loud German folk music, people dancing on the tables and strong waitresses carrying a massive amount of beer mugs. Because of further safety reasons, you need to have a seat to order a beer, so I asked around for any free spots, without luck, as all the seats were either reserved or taken since morning. Luckily all beer tents have outside seating areas as well, much more relaxed, so that's where we settled.
Now, we were still budget travelers and getting drunk there was simply not an option with one Mass (a mug of 1L) costing €10.05 (yes, 10 Euro and 5 Cent – so most people leave a tip by saying 'keep the change'). Besides, I already had the experience of drinking all day there back in 2007, so this time I was fine by having just one. In the short time we sat there, we experienced what makes this festival so great: The people sitting across from us became instant friends through a cheers followed up by a friendly conversation. Curiosity at Yuily's heritage, chatting about the brew, comparing the different tents and talking about our hometowns, all in just a few minutes from meeting. It's an incredibly social event, so even if you are a single traveler, you'll have instant company here. Just watch out for drunk Australians, we smirked as a group of them on the next table had to drag themselves out of the area as they couldn't handle the alcohol…
We headed back to sleep for a day trip to Germany's most touristy spot…

Munich to Neuschwanstein (and back)
Cost: €10.33 each
Type of Ticket: Bayern-Ticket
Bought at: DB ticket machine
Time: 3 hours (one way)
Type of Transport: RE, Bus, ALX
Since castle Neuschwanstein is famous beyond borders, of course Yuily had to visit it. And Michaela had planned for it anyway, not just for us, but also for two friends of her, Anna and Iva, two Bulgarian exchange students. Michaela's student ID was able to take herself plus one other person all the way to the castle, but even so, a Bayern-Ticket was still a massive bargain for three people at €31, including all transport. So, we took an RE train from Freising to Munich central station, where we met with Anna and Iva, to get on the next RE train to Füssen, the closest town to the castle.
The train had some of the oldest carriages I have ever seen in Germany and was packed with tourists. It soon dawned on me that, of course, DB used these old crappy carriages on this route because tourists are much less likely to complain about them than angry German commuters who complain if a train is 2 minutes late. I heard all kinds of languages on the train and there were at least 3 whole tour groups on it as we struggled to find a seat. We eventually split up with me about half of the way standing and the other half sitting on an armrest.
Füssen is a touristy little town consisting of souvenir shops, hostels and hotels. From here it was another 5 km to the castle, for which several buses were waiting at the train station. We hopped on as our Bayern-Ticket was valid for them as it took us to the village of Hohenschwangau, from where it is a steep walk of about 40 minutes to the castle itself, which sits on a hill nested in the mountains. But first we had to get tickets, and the next available English guided tour didn't start until two hours later, so we had enough time to sit in a cafe and get slightly overpriced drinks.
The walk up to the castle was quite nice as it led through a forest on a road with nothing but horse carts allowed on them, which many of the more lazy tourists opted to take. We enjoyed the walk and soon reached the majestic entrance gate of the castle, taking multiple pictures in front of the gate and the inner courtyard, where people waited for their guided tour to begin. And if you do not have a guided tour, this is as far as you can go, it's not possible to go inside the actual castle on your own.
The tour started by explaining the origins of the castle, and consequently King Ludwig's life. He had a severe case of megalomania and about 140 years back spent all of the states money to built this castle. Just before it was finished the state had enough and deposed of him by declaring him mentally ill. 6 months later, his dead body was found in a lake along with the body of his doctor. The cause of his death is a mystery, but it was most likely suicide. With the king deposed and later dead, the castle was never used with its intended purpose. Well, today, I suppose all the money he spent on building an incredibly extravagant castle is slowly coming back though tourism.
The tour led us through some of the main rooms, which didn't disappoint by being incredibly extravagant and expensive. It was not allowed to take pictures unfortunately, one of the reasons being the incredibly fast pace of the tour. The guide was talking fast, in a hard to understand German accent, not sparing the group a second to ask even a single question before saying "And now we move on to the next room over here…". I got the feeling that the whole organization was designed to haul as many tourists through the castle as possible. Given the number of people visiting, though, this was not entirely unreasonable.
After the tour we had some time to explore the surroundings, which were the beautiful nature of the Alps. In fact, I wouldn't even say the castle is very special, since it's not very old, there were never any real kings residing in there and it never served as a defensive post through dozens of wars like the thousands of other castles in Germany. Sure, they are not as extravagant, but more real. But a thing that sets castle Neuschwanstein apart from all the others is the absolutely beautiful mountain scenery it is in. We found a good spot from a hiking trail bridge to get an excellent view of the castle.
After this it was time to go back to Munich. We took the second to last RE train back to Munich central station, where we said goodbye to Anna and Iva, only to find out that we missed the RE to Freising. Luckily, the private ALX train running between Munich and Prague was departing soon, which it also made a stop in Freising. Since private trains receive state subsidies, our Bayern-Ticket was valid on it, and we were on our way back to sleep.
Read next…
The next morning we were set to leave Munich to go to my hometown, the first time after 20 months!


Comments